REMEMBERING PAT SUMMERALL
4/17/2013 2:16 PM
We were sad to learn of the passing of the great Pat Summerall. He started his illustrious career at the University of Arkansas and of course went on to play in the NFL and then had a 40 year run as a play by play announcer for both CBS and Fox.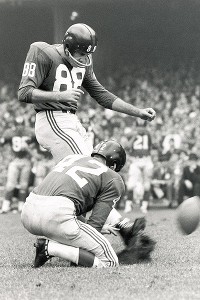 We honored Pat today by playing audio from him throughout the show and were joined in studio by Ray Tucker who shared his memories of Pat.
William Stephens came in today to share with us a project he started in October last year to place an underwater memorial for Chief Special Warfare Operator Adam Lee Brown who was a US Navy SEAL and Hot Springs Native. Brown was the focus of the book "Fearless: The Undaunted Courage and Ultimate Sacrifice of Navy SEAL Team SIX Operator Adam Brown". You can visit the facebook page that has been set up HERE.
In studio to talk about the Rock City Regional Championships was Master Sean Smith. Master Smith is with Arkansas ATA Martial Arts and they are hosting the event for the 23rd straight year and it will be at the Statehouse Convention Center on April 19th and 20th. Competitors from all across the nation will be there to compete to try and earn their spot in the District Championships and ultimately World Championships. You can call 501-944-4222 for more information or visit the website HERE.
Unfortunately, being the Razorback sports station we are, we had to discuss the Razorback Baseball team's loss. Fortunately we were able to discuss it with Drive Time Sport's Rick Schaeffer who was able to also reflect on Pat Summerall and tell us all about this Saturday's Abbot Nutrition RazorFest which is a great family event at Razorback Stadium that ends with the Red-White game. You can find out more about the 9th annual RazorFest HERE.
On the Revolution Hotline to talk about SEC football, spring football, and draft prospects was Barrett Sallee from BleacherReport.com.
In our ZONE SEGMENT OF THE DAY, we do a top ten list of the best replacements for Faith Hill to sing the Sunday Night Football theme. One thing about this top ten list, it's only 6 people long. Quick and to the point, that's how we roll! Being white AND nerdy, we think Weird Al would be fantastic.
Coming up on Thursdays show, Phil Elson is in and we will continue to follow the updates in the Boston Marathon bombing. Deanna from Riverfest will be in to tell us about what's going on this year, we will talk about the NBA and the playoff matchups and much more. Thanks for listening to The Zone from 10 to 1!