FROM THE NATURAL STATE TO THE SHOW ME STATE
4/29/2013 1:41 PM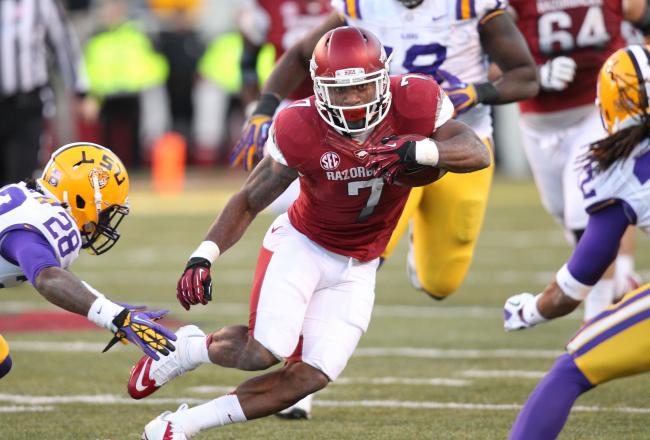 Today on The Zone we were live from Landers Chrysler Dodge Jeep Ram. Last week we talked to former Arkansas Razorback Running back Knile Davis about the NFL Draft and over the weekend he was the 96th pick in the draft and will be heading to Kansas City to play of the Chiefs. He talks with us again today and we ask Knile if he had any idea the Chiefs would pick him and how he is now moving forward as he heads to a place he has yet to visit. It was pointed out by a listener today that when he puts on that red Chief's uniform for the first time that if you squint hard enough it may just look like a Razorback uniform.
We also talk about how some of the other players fared in the draft, including some other former Razorbacks and also get a call from the always opinionated mouth from the backwaters of the Louisiana south, Tiger Bait. Mr. Bait called in to gloat about being right for once. Also we are joined by someone much more pleasant, from KATV's Morning Daybreak Chris "Sugar" Kane.
There is a pretty high level of "man love" that goes on during most of the shows here at The Buzz and in that main vein we announce on the show the first active male sports player to come out of the closet is the NBA's Jason Collins. Collins is a 34 year old center who has played for 6 NBA teams over the last 12 years and came out in an article posted on the Sports Illustrated website. He is currently a free agent, most recently playing for the Washinton Wizards.
During our Birthday Trivia today we mention it is Jerry Seinfelds 59th birthday and we say he may be the king of TV. This brings up the discussion of who some of the other greatest TV actors of all time are.
In our ZONE Segment of the Day, after a great call about the newest Krazy Mike's ad that runs on The Buzz, we talk about Steve Nash and his on going child support battle with his ex-wife. We also find out how Shane Battier, the Miami Heat forward, kept his good luck going during Miami's winning streak.
Coming up Tuesday we will be live at Doublebee's at 2402 Cantrell Road in Little Rock. We will be joined by Phil Elson and talk to Jim Harris from Sporting Life Arkansas. Also, Becca Green and Chris Johnson will stop by to tell us all about the Access Cup and Chris Kramolis and his average guy movie review. We thank you for listening to The Zone from 10 to 1!