KENTUCKY FRIED DERBY DAY
5/3/2013 2:08 PM
We were live from Oaklawn today to preview the Kentucky Derby. Mark Abernathy, the well known local chef, called in from Churchill Downs where he was participating in "A Taste of the Derby". Other well known chef's participated in the event that was a fundraiser for Hunger Relief. Mark raised 1,500 bucks to bring back for the Arkansas Food Bank. He is hanging around for the Oaks and the Derby at Churchill Downs and says that our own Oaklawn can hold it's own in comparison.
From KATV, Justin Lewis joined us to talk about a feature he worked on about the horse Will Take Charge that is running in the Derby. In this segment we also go through a Yahoo top 10 list of the coolest Kentucky Derby Horse names of all time.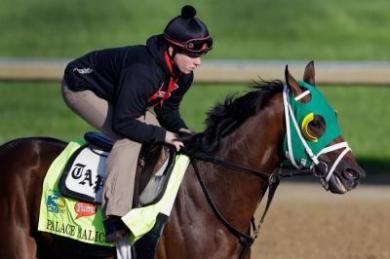 Our buddy, Jeff "Money" Taylor also checked in to share with us his picks for the Kentucky Oats and Derby. For the Kentucky Oats Jeff went with horse #4 UnlimitedBudget and for the Kentucky Derby Jeff picked horse #10 PalaceMalice.
The host of the insanely popular Sunday Buzz, Mr. William Vickery, Jr. joined us for the show today. With the NBA playoff's going on we recap Thursday nights games and preview the games coming up this weekend. You can listen to Bill every Sunday from 9am to Noon right here on The Buzz.
Robbie Neiswanger from the Arkansas News Bureau joined us on the Revolution Hotline to talk about this weekends Arkansas Razorback Baseball series at Kentucky. We also discuss the new SEC Network that was announced yesterday and how it will affect the Hogs. You can keep up with Robbie on Twitter @NWARobbie.
In this week's ZONE REWIND, we look back at the best interviews and show moments from the week including our interview with the newly drafted KC Chief Knile Davis and Justin expresses his dislike of the current Bud Light pitchman who goes by the stage name "Pitbull".
Coming up Monday, Chris "Sugar" Kane will be with us in studio. We will recap the Razorback series at Kentucky, the NBA playoffs, and the Derby races. Also, we will find out how Iron Man 3 does at the box office and have Gameballs and Jockstraps. We thank you for listening to The Zone weekdays from 10 to 1!