I AIN'T AFRAID OF NO SNAKES
5/14/2013 1:16 PM
Today in The Zone we were joined in studio by former Razorback Rickey Williams and on the Revolution hotline by former Razorback Odis Lloyd. They were on to talk about Life Champs, a non-profit orginization that "uses sports as a platform to build champions for life". Thier new summer camp for 7th to 12th graders is open for registration and you can find out all you need to at their website LIFECHAMPS.COM. We also take a trip down Hog memory lane with the guys and get in on a friendly rivalry that hasn't fizzled over the years.
Riverfest is just two short weeks away and on to tell us all about the lineup and more was Deanna. This year there really is something for everyone's taste from Darius Rucker and Dierks Bentley to Bush and Peter Frampton and many more. She also told us about the Baggo tournament going on and how to get discount tickets. You can also volunteer for only 4 hours and get a free three day pass and collectable t-shirt! Just check out their website RiverFestArkansas.com to see the full line up and to volunteer or learn about the Baggo tournament and more.
In studio today was KATV's Chris "Sugar" Kane and we discuss NFL free agent wide reciever Titus Young who was arrested three times in less than 7 days. The most recent arrest was for burglary, assaulting an officer, and resisting arrest.
We find out today that the NTSB is wanting to lower the allowable blood alcohol level in all 50 states from .08 to .05. This brings up something that is also deadly when it comes to driving and that thing is texting while driving.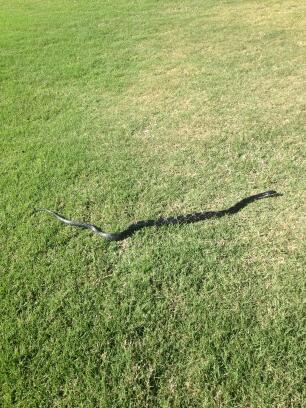 In our Zone Segment of the Day, Justin tells us about the terrifying ordeal he faced at the Paul Dunn Golf Classic Monday. While trying to have a fun time on the course, this uninvited guest decided to hitch a ride.

On from Sporting Life Arkansas was our buddy Jim Harris. We talk to Jim about all things related to Arkansas Sports.
From Tropical Smoothie Cafe we get Chris Kramolis's average guy movie review. This week he reviews The Great Gatsby and gives it 3.75 bananas out of 5. He also tells us what great stuff Tropical Smoothie has lately.
Coming up Wednesday we will talk to Henderson State's Kale Gober, Dick Jerardi from the Philidelphia News, and producer and director Harry Thomason from shows like Designing Woman and Evening Shade. Also, we will find out about Arkansas Salutes the Troops golf tournament and talk to Barrett Sallee from Bleacher Report. Thanks for listning to The Zone form 10 to 1 where Sports and Entertainment come crashing together!