VODKA AND WATER
10/16/2013 1:57 PM
Wednesday in The Zone we find out about Ole Miss tailgating from a young lady who we became instant fans of. In a video that has gone viral titled Follow the Party: A Day at the Grove we find out about the party scene at the Grove on gameday. The whole experience could not have been broken down more eloquently than it was by Ole Miss Student Shelby Herring. One thing we learn is that a major key to becoming a fan is vodka and water.
On the Sticky'z hotline we talk to Super Bowl Champion Amani Toomer. We get Amani's take on the week in the NFL and also find out if he ever say fans tailgating who made him want to skip the game and join in.
Wednesday's are special in The Zone not only because it is our chance to do the humpty dance but because we are joined by Wally Hall thanks to our friends at Deltic Timber. In this segment we talk about Beavers and Lions and find out where they got those crazy names from.
In the Jim's Razorback Pizza report we tap into Wally's Razorback expertise. We talk about the upcoming game on Saturday and also preview the upcoming Hog basketball season.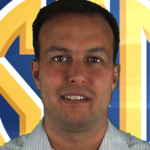 On the Sticky's hotline we are now joined by Barrett Salle from Bleacher Report. He is our SEC expert and we break down the rest of the conference with him.
On with us to talk about sports injuries and recovery was Dr. Dirk Reynolds. He is an orthopedic surgeon with St. Vincents. We talk about several topics including shoulder separation and how it is diagnosed and treated.
Coming up Thursday we will talk to Eli Gold the play by play announcer for Alabama. We will talk to Jose Canseco about the documentary showing at The Hot Springs Film Festival. We will talk to ESPN.com's Edward Aschoff and much more. As always we thank you for listening to The Zone from 10 to 1 with Justin Acri!