GoDaddy!
1/3/2014 1:38 PM
Welcome to Mobile, AL and the Renaissance Hotel where we spent Friday previewing the GoDaddy Bowl with ASU and Ball State. The game is Sunday night at 8pm and should be a lot of fireworks in this one with two high powered offenses. The Red Wolves started their Friday by being given the trophy as SBC Champions for the 3rd year in a row by commissioner Karl Benson.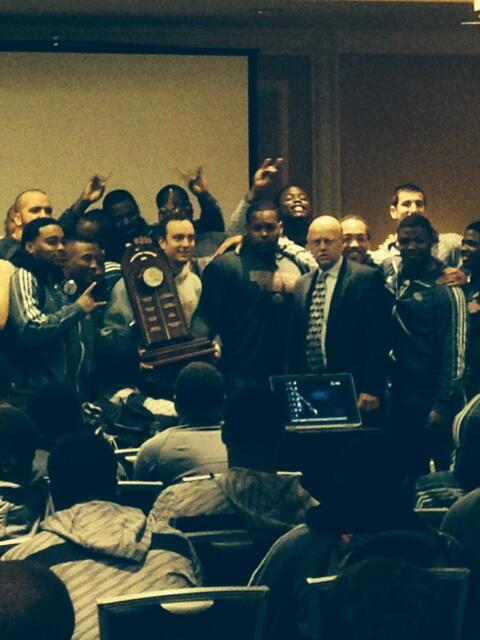 ASU has a 7-5 record against a 10-2 record for Ball State, but the Red Wolves have played a much better schedule in 2013. In fact ASU's opponents are a combined 68-67. Ball State's...51-83. The Cardinals are led by Keith Wenning who has almost 4,000 yards passing this year. Dude has over 11,000 for his career. For ASU...the man behind center is Adam Kennedy and he threw for almost 70% this year and ran for over 500 yards. We had a chance to visit with Adam Friday.
Kennedy has battled through a knee injury and is going to start Sunday and is hoping to be feeling good when they kick it off at 8pm.
We also spoke to Terry Mohajir the AD for ASU.
He doesn't look like Winston Wolf, the famous fixer from Pulp Fiction.
but as we found out in this interview, he does liken his approach to the character.
We do have to mention that none of our coverage from Mobile and the Go Daddy would be possible without our great sponsor-First Security Bank. We appreciate their support of The Zone, the Buzz and the Red Wolves!!
On Friday we also finished our year in review. HUGE ups to Matty T for organizing and cataloguing all the material to go back through for some fun at the end of the year.
There are too many great moments to mention, but among the interviews we had were: Tom Osborne, Kareem Abdul-Jabbar
, Craig Ehlo, Alyssa Milano
, Ian Baker-Finch, Cliff Harris, Olympic Gold Medalist Ali Raisman
, Merril Hoge, Seahawks DL Clinton McDonald, PGA Winner Ken Duke, WKU HC Bobby Petrino, Adam Richman of Man vs. Food fame, Corliss Williamson, Basil Shabazz, Dan Hampton, Houston Nutt, Gene Chizik and many many more.
Guess who else is with me here in Mobile? You got it...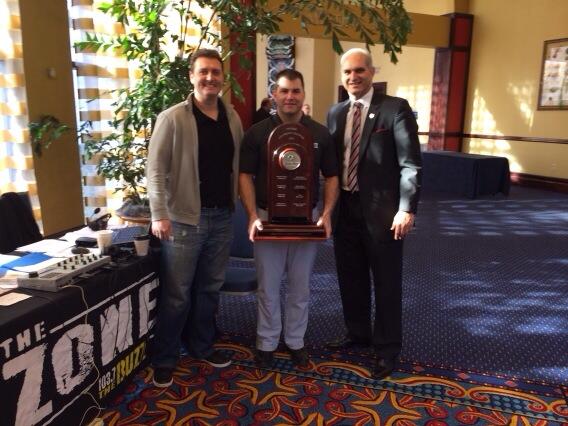 The Shooter is back in 2014 so get ready for a great year in The Zone and thank you so much for tuning in! We had a chance to hold the trophy while hanging with the AD and I almost felt cool for a moment. Almost.
We will be back from Mobile on Monday with a recap of the weekend games including the GoDaddy and a preview of the national championship game. Have a great, safe weekend!