LSU is going where?
2/17/2012 1:17 PM
Friday's show included the announcement of the 2012 Arkansas Football Schedule and a shift of the LSU game from Little Rock to Fayetteville. You can see the complete rundown here on the Razorback website. In exchange-WMS gets Ole Miss. Our take-not a huge deal. The golf course and the stadium in LR will be PACKED for either game. Some people are concerned that Hog fans may NOT pack out Razorback Stadium on Thanksgiving weekend even against LSU-but only time will tell. We spoke to Coach Petrino about that and many other things on Friday as he prepared to speak at a coaching clinic in Hot Springs.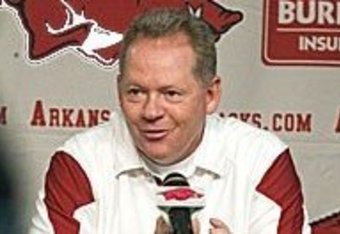 Here's what he had to say about the 2012 schedule, Brandon Mitchell, his interest in horse ownership and what kind of player he was back in the day.
Speaking of Hot Springs, we also had Jeff Taylor from Oaklawn-it is the start of the President's Day extravaganza...
check Jeff's picks for the day and also some news from the Spa City.
I will be at the track on Saturday with some friends and Mrs.Acri trying to pick me some winners so I hope to see you out there. Have a great, safe weekend!