CHRIS GRAGG AND KEN DUKE ON A BUSY TUESDAY
3/5/2013 2:20 PM
It was a jam packed show today, we talked to former Razorback TE Chris Gragg about his Combine performance. Chris also filled us in on what kind of questions he was asked and how some of his fellow Razorbacks did.
Professional Golfer Ken Duke joined us on the Revolution Hotline. Ken is being inducted into the Arkansas State Golf Hall of Fame and also talked with us about being a huge fan of basketball and his great experience at a recent Miami Heat game.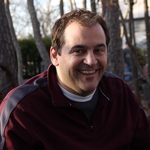 Thanks to Doug Brodess from BleacherReport.com for rescheduling with us for today. We got a little distracted with a phone battle yesterday and Doug was great enough to make time for us today and talked some hoops. The bottom line...the SEC is weak and may not get many teams in the tourney. BIG SURPRISE!!! The freaking RPI is behind that of the Mountain West and the A-10 among six others! Ugly. More to the point Arkansas is looking to be in a tough spot with an RPI at 80. Tonight's win at Mizzou is a longshot (Hogs -10), but a must win if Arkansas wants to dance without having to win the whole dang SEC Tourney.
Jim Harris was on today. Jim spoke with us about tonights Razorback game and the recent woes for the baseball team.
Sitting in with us today was J.J. Meadors. J.J. also talked about Razorback Basketball and is just an all around fan of sports.
Jason Alley from Tropical Smoothie Cafe was on with his review of the movie "Identity Theft" starring the female Chris Farley. Jason also brought some smoothies and tacos, including the new Spinach and Kale Smoothie, which is much more delicious than you would think and I don't feel like a fat cow after inhaling one.
Coming up Wednesday in THE ZONE, Christina Lecuyer is in and we will talk to Ray Rogers President of Golden Gloves of America and former Razorback and NBA star Todd Day.
All that and more tomorrow. Thanks for listening to THE ZONE from 10 to 1!