BELLY FLOPPING ALONG
4/2/2013 2:23 PM
Tuesday in THE ZONE we were joined by Phil Elson and on the Revolution Hotline spoke with Comedian Louie Anderson. Louie can be seen tonight on the ABC show SPLASH right before Dancing with the Stars. We talk to Louie about how he got roped into doing a show like this and he hints at what may be to come in the future for the funny man.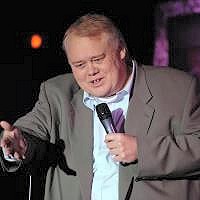 Our Our buddy, Jim Harris also checked in with us today. Jim is with SportingLifeArkansas.com and spoke with us about U of A Baseball, the Hogs basketball departures and updated us on Coach Bielema.
One of the most hated callers on THE BUZZ called in to spew his venom and also to call out "Ira" who he refers to as a "redneck drunk".
In our ZONE SEGMENT OF THE DAY, we help out the recently turned 30 Big Baby with a list from AskMen.com about what a man in his 30's should not wear. I also make an argument about hockey and it not needing more violence. There's a reason people refer to me as the "Peace Keeper". They actually call me "war monger", but not to my face.
Joining us from Tropical Smoothie Cafe was Chris Kramolis. We talk to Chris about the new location in Searcy (which by the way is ON FIRE!!! in a good way)... and a bit of entertainment news.
Wednesday we will be joined by Chris Kane and talk to all time NBA leading scoreer Kareem Abdul Jabbar and Barrett Sallee from Bleacher Report.com
As always, Thank you for listening to THE ZONE from 10 to 1!