OVER THE HUMP TO THE NFL DRAFT
4/24/2013 1:53 PM
Today on The Zone we were joined on the Revolution hotline by former Razorback Running Back Knile Davis. We find out what Knile has been up to since we talked to him before the Combine like what teams he has been meeting with and the advice he has recieved from other Razorbacks who have entered the NFL. To stay updated on the Draft just stay tuned to 1037 The Buzz.
In studio with us today was the host of KATV's Daybreak Chris "Sugar" Kane. Since the NFL draft starts Thursday we discuss some of the prospects.
On to talk about "Global Kids" was Chane "Big Piph" Morrow. You may have also heard of him before by the name Epiphany, he is a talented local rapper and we also get Piph's take on the NBA playoffs and listen to one of his older tracks. If you would like to help out with the Global Kids initiative or would just like more information you can visit the website HERE. To find out more about Piph's music, you can visit his website HERE.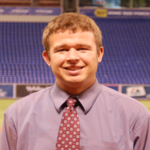 The NBA playoffs are in progress, so today we talked to Joel Cordes. Joel is with Bleacher Report and is the Assistant NBA editor for Turner Sports. We find out from Joel just which teams have a chance to make it all the way.
In our Zone Segment of the Day we play the classic clip of Lawrence Taylor talking about being drafted. His memory of the day is a bit blurry but he does remember how many Coors Light beers he had, that number is 41.
Coming up Thursday we will be joined by Christina Lecuyer and will preview the Summer Movie scene with Breanne Heldman. We will be visited by our friends from Cajuns to talk about the Big Swingin' Deck Party and Matt Couch will be in sponsored by Mooya's Burgers, Fries and Shakes. We will recap Wednesday's NBA playoff games and will be following the NFL Draft. Thanks for listening to THE ZONE from 10 to 1!