BEST OF TIMES, WORST OF TIMES
5/7/2013 1:32 PM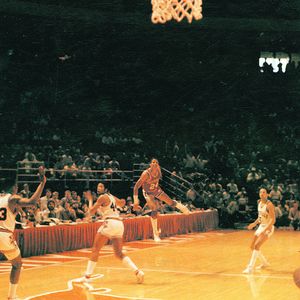 Today marks 24 years since Michael Jordan made the shot over Craig Ehlo to move the Bulls into the 2nd round of the 1989 NBA playoffs. This prompted us to wonder today in The Zone what the best sports moment was and also what was the worst moment. We went around the room to get ours and opened up the phones to get yours. A couple of the best for us here in Arkansas would be the miracle at Markham and, of course, the game winning half court shot by U.S. Reed.
In studio today we were joined by UALR baseball Coach Scott Norwood. Coach Norwood was on to talk about UALR hosting UCA at Dickey Stephens Park tonight. Also, on the topic of UALR baseball, Senior Blake Huffman was just named the South Belt Confrence Pitcher of the Week.
We talked about last nights NBA games including the injury by Nate Rob that required 10 stitches before he returned to the game. Also, we find out how bad of a man Manu Ginobli is and also what "obscene gesture" earned the Bull's Marco Belinelli a 15,000 dollar fine.
Our Zone Segment of the Days stems from a suprising and frightning story. We learn of three woman in Ohio who were kidnapped over a decade ago that have been rescued. The real gem of the story turned out to be the man who is credited with their rescue. He is certain to be the next person from the news to be auto-tuned. He has been labled a hero and goes by the name Mr. Charles Ramsey.

We talked to Jim Harris on the Revolution Hotline. Jim is with Sporting Life Arkansas and we spoke about the news that broke after our show yesterday of the players leaving the Razorbacks and what effect it may have on the team.
Professional Golfer Christina Lecuyer was with us for the whole show today. This provided the opportunity for her to give some tips and advice on how people can better "Lecuyer their game".
With Mother's Day quickly approaching, Deedee from Ava Bella Day Spa in Little Rock stopped by to offer some great deals that are sure to make Mom forget about all the terrible things you've done throughout your life. Keep listening this week for a chance to win a free spa package from Ava Bella.
Coming up on Wednesday, Big Joe Kleine will be in to talk NBA. Singer/Songwriter Matt Stell is in to talk about and share some songs from his new album "A River Through It" and Robbie Neiswanger from the Arkansas News Bureau to talk SEC and Hogs. Thank you for listening to The Zone weekdays from 10 to 1!