SUN BELT MEDIA DAYS
7/15/2013 1:41 PM
I am starting the week in New Orleans broadcasting for Sun Belt Media day in the Superdome. We were jam packed with interviews today and started off the show with a guy with whom we are all pretty familiar. Former Razorback coach and current Western Kentucky University head coach Bobby Petrino. I was asked to keep the past in the past and not get into personal subjects by some of the league admin folks, but on a personal note I was happy to see Coach P so happy. This is a guy who I think has more supporters than detractors in the Natural State and who has paid his professional penalty by being forced to miss a year away from the sport he loves. We did talk about his return to New Orleans where the Hogs almost pulled off a great comeback a couple of years ago against OSU. He reminded us of the phrase that pays...SCOOP AND SCORE! I hope he has success going forward (except of course when he plays ASU)!
Up next we check in with Bobby's younger brother Paul Petrino. Paul is currently the head coach for the Idaho Vandals. Idaho has a wild schedule this year as they transition this season from an independent into the SBC as a full conference member next season. Paul has a lot of work to do as we discussed with him inheriting a team that finished 1-11 in 2012.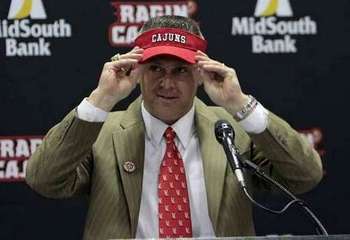 Next we talk to Mark Hudspeth. Hudspeth is the head coach for the University of Louisiana Lafayette Rajun' Cajuns. A team that had a great season last year that included a near miss at Florida. He has a lot of talent coming back. He also has a lot of ties to Arkansas as we talked about in the interview.
From Arkansas State University we talk to head Coach Bryan Harsin about the upcoming season, his hopes for the future and his interesting link to Boise State with the SBC Commissioner Karl Benson.
Also from ASU, we interview offensive lineman for the Red Wolves Steven Haunga.
From the University of Louisiana-Monroe, we talk to their QB Kolton Browning. You may remember him as the guy who rippedRazorback fans' collective hearts out last season at WMS in a come from behind win against the Hogs. He of course almost helped his team pull the win the next week at Auburn. Seems like a great kid with a great head on his shoulders who hopes to add a conference championship to his resume.
Tuesday we will continue our Media Days coverage and will talk to Billy Ferrante, Executive Director of the New Orleans Bowl. We will talk to Lauren Cason from the New Orleans Convention and Visitors Burea and Sun Belt Conference Commissioner Karl Benson. Also, Jim Harris from Sporting Life Arkansas and from Tropical Smoothie Café Chris Kramolis and his average guy movie review. Thanks for listening to The Zone from 10 to 1 with Justin Acri!