HOW MUCH FOR AN AUTOGRAPH?
8/13/2013 2:12 PM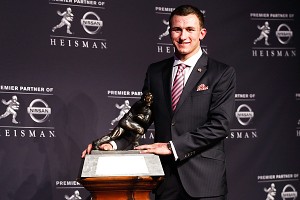 Another story has come out about Johnny Manziel being paid for signing merchandise. According to THIS STORY on ESPN.com Manziel was paid $7,500 for signing approximately 300 mini- and full-sized helmets while attending the Walter Camp Football Foundation event. An East Coast autograph broker showed two cell phone videos to ESPN showing Manziel signing the white Texas A&M helmets and footballs laid out on a bed in a hotel room. We discuss this on the show and get opinions from you on the live fan feedback.
Today our friend from the chilly north was back in studio with us. Christina Lecuyer was on and talked some golf with us since that is her area of expertise.
UALR is also headed to the top hat of North America. The Trojans will be heading tomorrow to play three games in Calgary for the Battle of the Border. Coach Shields was on the Revolution Hotline with us to tell us how his team is preparing. We are just assuming the Canadians won't surrender before the Trojans make their way over the border. It's about time we invaded them.

On to talk some more golf was our buddy Jim Harris from Sporting Life Arkansas. We also talk some Razorbacks and who he thinks some of the starters will be this year and get "Jim's Gut" which is his gut feelings on how a situation will turn out.
From Tropical Smoothie Café' Jason Alley stopped in with the Average Guy Movie Review. He brought us in some good stuff as usual including some Peanut Paradise Smoothies and the BBQ grilled flat bread. This is the last week you can try the BBQ flatbread because next week they are introducing something new which he is keeping a secret but we were able to find out about off the air and I can tell you it sounds really good and comes in a bowl but is not a soup or salad. Today Jason reviews the comedy We're the Millers. He says he wishes some of the scenes hadn't been shown in the trailer but it was still funny and he gave it 3 ½ bananas on the banana-meter.
Coming up tomorrow we have Wednesday's with Wally and will be joined in studio by the Butcher Shop for Little Rock Restaurant Month. We will talk college football with Michael Felder from Bleacher Report and Doug Kilgore will be on to talk about the New AD Workshop. Phil Elson will be in studio for the entire show and you will have a chance to win some free McDonald's with Birthday Trivia. We thank you for listening to The Zone weekdays from 10 to 1 with Justin Acri!