European Invasion
8/19/2013 3:14 PM
On Friday, I promised I wouldn't get that into the Solheim Cup. I lied. The Europeans came over and kick our asses. It sucked and frankly it really wasn't that close. I am shocked at how easy they made it look whether they were old or young like Charley Hull who is just 17!
Even our own Stacy Lewis, who was the top rated player in the event, couldn't get out of her own way on the greens.
Here you see her congratulating one of the winners from across the pond. At least she got 1.5 points out a possible 4. Paula Creamer got CREAMED 5-4 on Sunday in her singles match. Not good. Here's is what defeat looks like: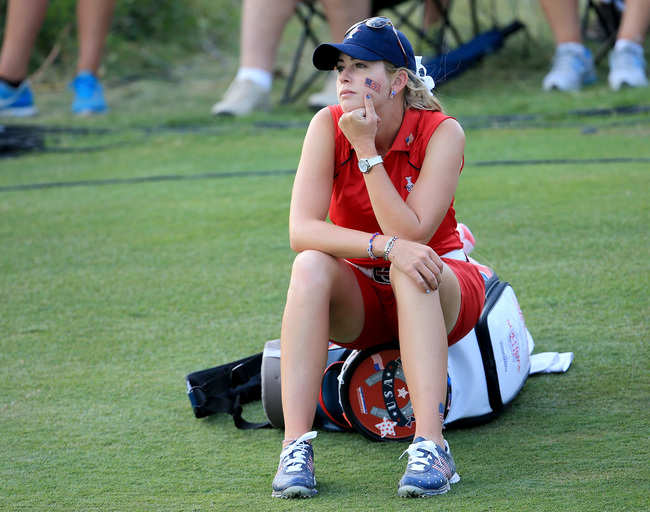 That was annoying. So is this new Michelle Wie putting stance. Bent at the waist for allegedly a better view of the line.
Michelle note to you. If nobody on earth putts like this, there's probably a reason why.
Adding to my frustration with the British Invasion was the fact that Matt Fitzpatrick won the US Amateur this weekend. He's not from the U.S. He's from Britain. And did he beat a guy from Cali, Kentucky or Florida in the final? No he beat some dude named Oliver Goss from...wait for it...AUSTRALIA!!! Really?? Amateur, yes. U.S.???? Something is missing here? Hello?
Anyway...on a happier note Patrick Reed won the Wyndham this weekend with his WIFE on the bag.
She caddies for him every week, but I just can't get over this tiny little lady carrying this HUGE golf bag all over tarnation every week. If I was him I couldn't fight the urge to grab the bag for a few holes every round and say "it's ok dear, I've got it". The bottom line is at least the 10% usually paid to the caddy stays in the family and this week that was almost 100k!
We also talked some football and I want to remind everyone that we will be at War Memorial tomorrow where you can come by and get tickets for the Little Rock games this year. I will also be giving away two tickets for you to win to the NWA Meeting where Coach B is speaking on Friday.
You can't get tickets to the SOLD OUT LR TD Club meeting Wednesday with Coach, but we will be offering the next best thing which is a live interview with the Head Hog on The Zone. 10-1 every Monday-Friday. Tune in...or miss out.