BRYAN HARSIN FROM THE LRTDC
10/28/2013 2:08 PM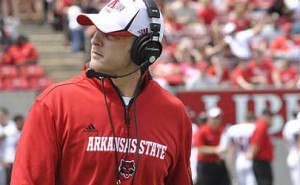 Monday's The Zone is live from The Little Rock Touchdown Club presented by Epoch Health. Today the guest speaker was ASU Head Coach Bryan Harsin. Coach was running late due to heavy fog conditions today but before arriving and making his way to the podium he joins us on The Stickyz Hotline for an exclusive Zone interview.
Once Coach Harsin arrives we carry his comments live from the podium.
Monday's in our Jim's Razorback pizza report we also "get defensive" with Matt Harris. We also talk some NFL and Matt really tells it like it is.
We talked the weekends World Series Games 3 and 4 with our baseball expert Phil Elson. There was a call in one of the games by an official who had blown a call in the past.
This brought up a call from Phil from several years ago. He sets up the call and in this segment we hear Phil's Texas League meltdown.
There was a botched kick that cost Missouri the game over the weekend. We hear the call which has similarities to another famous "laces out" debacle.
We also have our Gameballs and Jockstraps. In this segment we read some of the best entries and give the winner a pair of tickets to this Saturday's Razorback game against Auburn.
Tuesday we are live at Landers Chrysler, Dodge and Jeep. We will have a boatload of fun and as always we thank you for listening to The Zone from 10 to 1 starring Justin Acri!