THANKS A LOT
12/2/2013 2:26 PM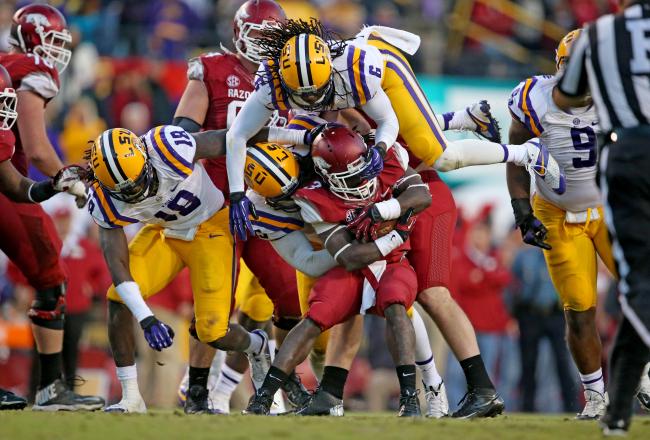 Monday in The Zone we are back from an extended Thanksgiving weekend. It was pretty close Friday as the Hogs played LSU but unfortunately the floor fell out from underneath us late in the game. We discuss the loss in this segment and effort in putting a positive bow on this whole season.
One of the biggest stories today was the win by Auburn on Sunday against Alabama. A failed field goal attempt by the Crimson Tide led to a 100 yard touchdown for Auburn which won them Iron Bowl. In for this segment was the defensive Matt Harris and we hear 3 versions of the call from the two radio broadcast sides and CBS.
In our Jim's Razorback Pizza Report we talk some more about the loss on Friday. We hear from Coach Bielema and get his reactions to the game.
Charges have not been filed in the Jameis Winston case and with Tallahassee being such a large city it is hard to believe no progress has been made. In this segment we discuss this whole issue.
Tonight is also Monday Night Football. We preview tonight's game as the Seahawks host the Saints.
Thanksgiving is traditionally a Justin Acri favorite. However, this year was different and in this segment we find out what was wrong with the holiday this year.
There is a great event going on Friday called the Miracle League Double Header. It is a great event to let children who are disabled play the game of baseball. For full information and how you can volunteer visit them HERE.
Coming up Tuesday we will talk some Hogs with Ernie Murray. We will have our Razorback epitaphs for the season and much more. As always, we thank you for listening to The Zone from 10 to 1 with Justin Acri!